Just over a year ago, Maria Grazia Chiuri made her debut as Dior's first female creative director by sending shirts emblazoned with the Chimamanda Ngozi Adichie quote, 'We Should All Be Feminists'. Now, overnight at the SS18 Dior Ready-to-Wear presentation at Paris Fashion Week, Chiuri presented another question to the audience, the industry, and the world in the form of a striped t-shirt: 'Why have there been no great women artists?'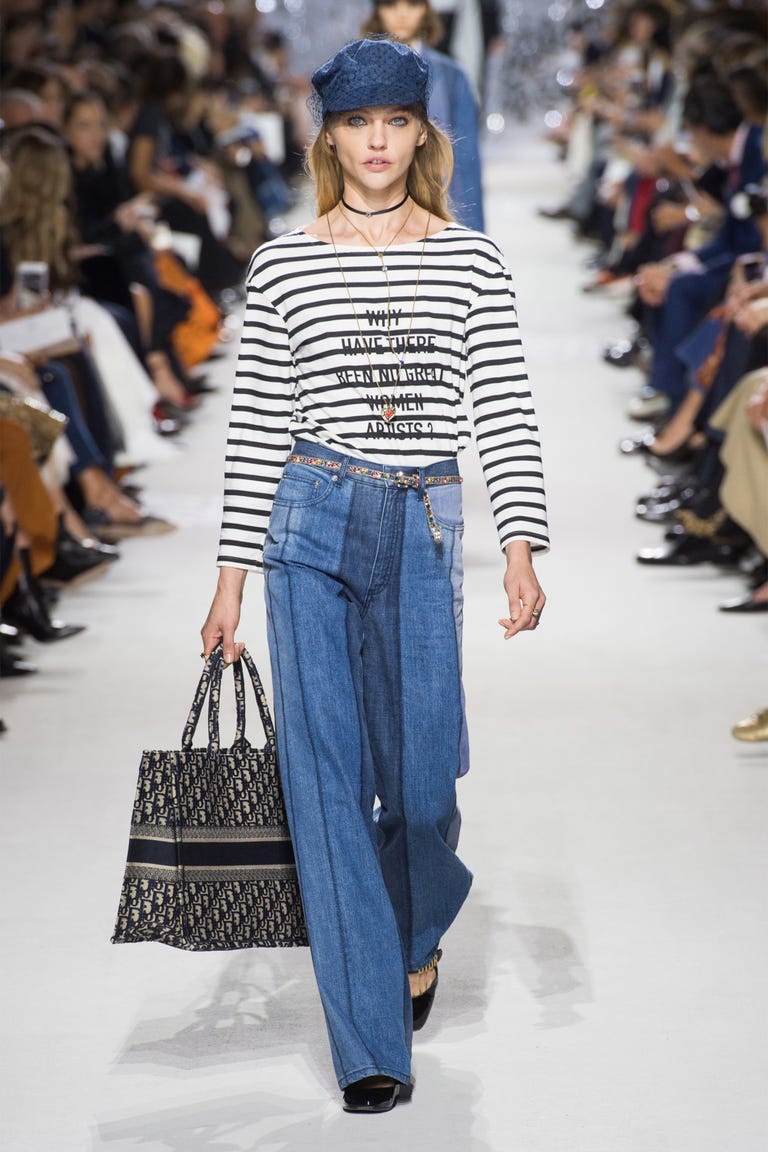 Courtesy Backgrid
The quote came straight from an essay written by Linda Nochlin in 1971, a copy of which was on every seat. The essay itself explores institutional sexism within the world of art, and spurred recognition for female artists during the time. Artists such as Niki de Saint Phalle, who was also a close confidant of former Dior creative director Marc Bohan, were especially celebrated. Saint Phalle was one of the few female artists known for creating monumental sculptures, and went largely unrecognised for her creative brilliance during her time.
Along with the gifted essay, audience members were also treated to clues of Chiuri's known female empowerment agenda before the show even began. Saint Phalle's Tarot Garden was used as inspiration for the presentation's setting. The walls were covered in mirrored shards artfully arranged into mosaics, which were again later reflected in the show's closing looks: Chiuri's now-signature silhouette covered in a rainbow of prisms.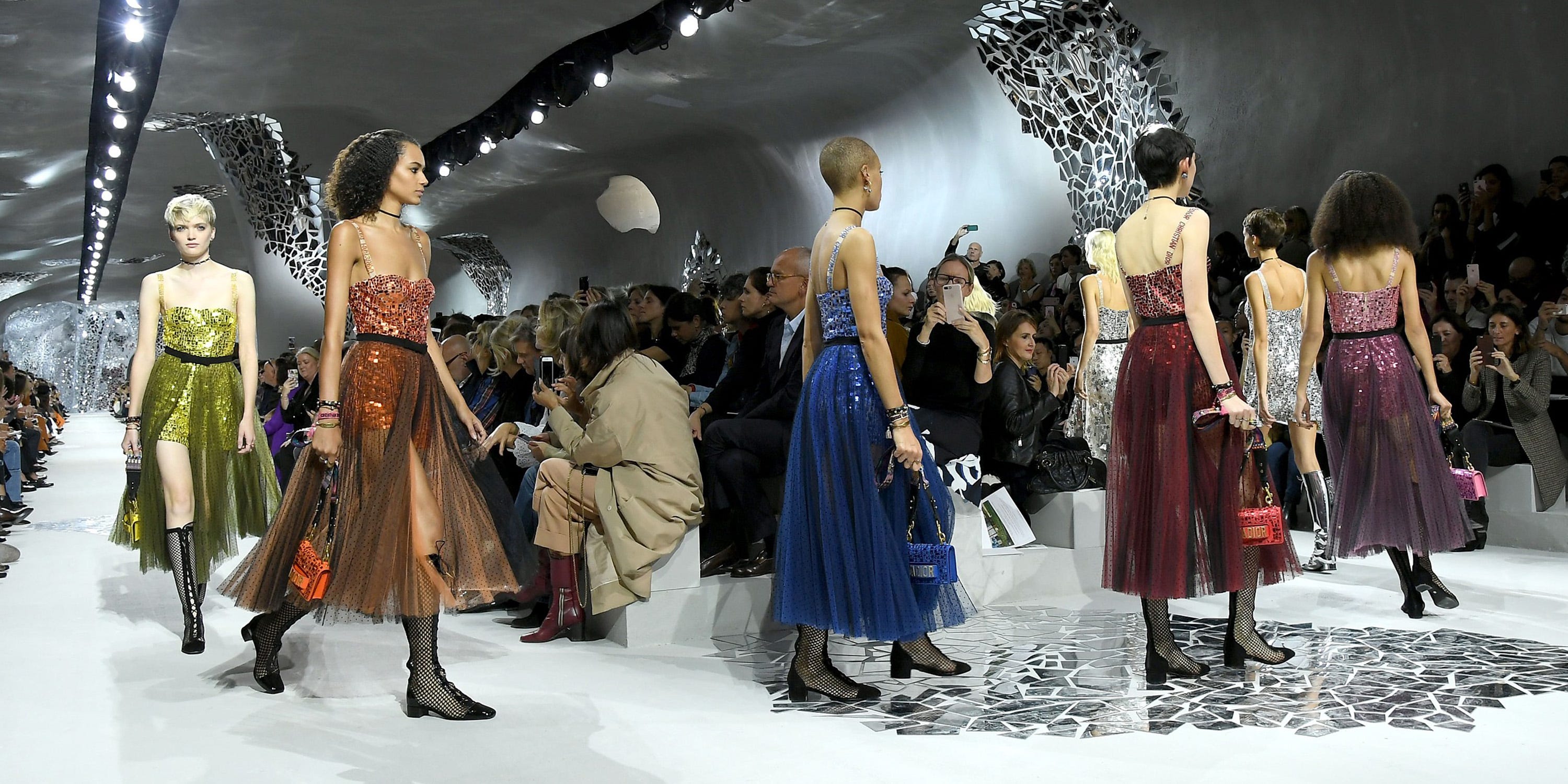 Courtesy Getty
Saint Phalle's artworks were also featured on the runway, with sewn appliques portraying her paintings and sculptures. Chiuri's stamp on Dior has bought with it a cult following similar to that of Alessandro Michelle at Gucci: those in the front row wearing trademark Maria Grazia Chiuri sheer skirts with Dior undergarments, along with woven wristbands similar to those that might get you into Coachella that you leave on your wrist for months to come.
As expected, Instagram loved the show, mostly because of the prismatic runway, the photogenic dresses, and of course, the slogan t-shirts that fit in with the industry's swing towards female empowerment. Although Chiuri isn't as outwardly visionary like her most recent predecessor, Raf Simons, she is well aware of what her buyer wants: something wearable, eye-catching – a slogan t-shirt and a clearly branded bag, to be precise.
Chiuri remained loyal to her feminist vision, drawing upon the validity of women's artistic voices to prove her sartorial point. She also followed the critical Dior footprint of drawing inspiration from previous creative directors at the house, such as Marc Bohan through the smatterings of polka-dots and checked prints, and Yves Saint Laurent through the barrage of beret's and stripes.
Dior SS18 venue in the gardens of the Musee Rodin
Looking beyond Chiuri's use of extremely similar silhouettes to her previous Dior showings (consistency may be her key?), her attention to detail and success in portraying life as art is second to none. The question posed on the opening t-shirt wasn't asking why there's an actual lack of female artists, but rather why we choose to place our attention elsewhere. Maria Grazia Chiuri's title as the first female creative director at Dior may or may not attest to this, but like all those before her, she's placing her mark on the historical house one printed slogan t-shirt at a time.
There's the extended thought of whether or not sending such messages down a runway or selling them in a high-end boutique may actually improve an industry that's well known for exploiting social justice through things like sweatshops, or severely underpaid workers in overseas countries. Politics and fashion can often be a blurry, immeasurable line, but perhaps Dior and Chiuri are taking it one step at a time, through programs like 'Women @ Dior', which is aimed at providing young female students career guidance from those currently working at the historical house from fashion, to engineering and science.
Nonetheless, the collection presented much more than just that of the clothes that swished down the runway. It was modern female history reflected through the shards on the walls, the embroidery on netted dresses, and through Maria Grazia Chiuri's commitment to the cause.