Kate Moss, Sadiq Khan, Adwoa Aboah, Grace Coddington, Millie Bobby Brown and Naomi Campbell. What do they all have in common? They each play a part in Edward Enniful's debut edition of British Vogue. Covered by Aboah, the magazine pays homage to creative British talent both on home soil and abroad, and Enninful's Instagram-debut of his first cover bought with it a welcome – a welcome to the #NewVogue.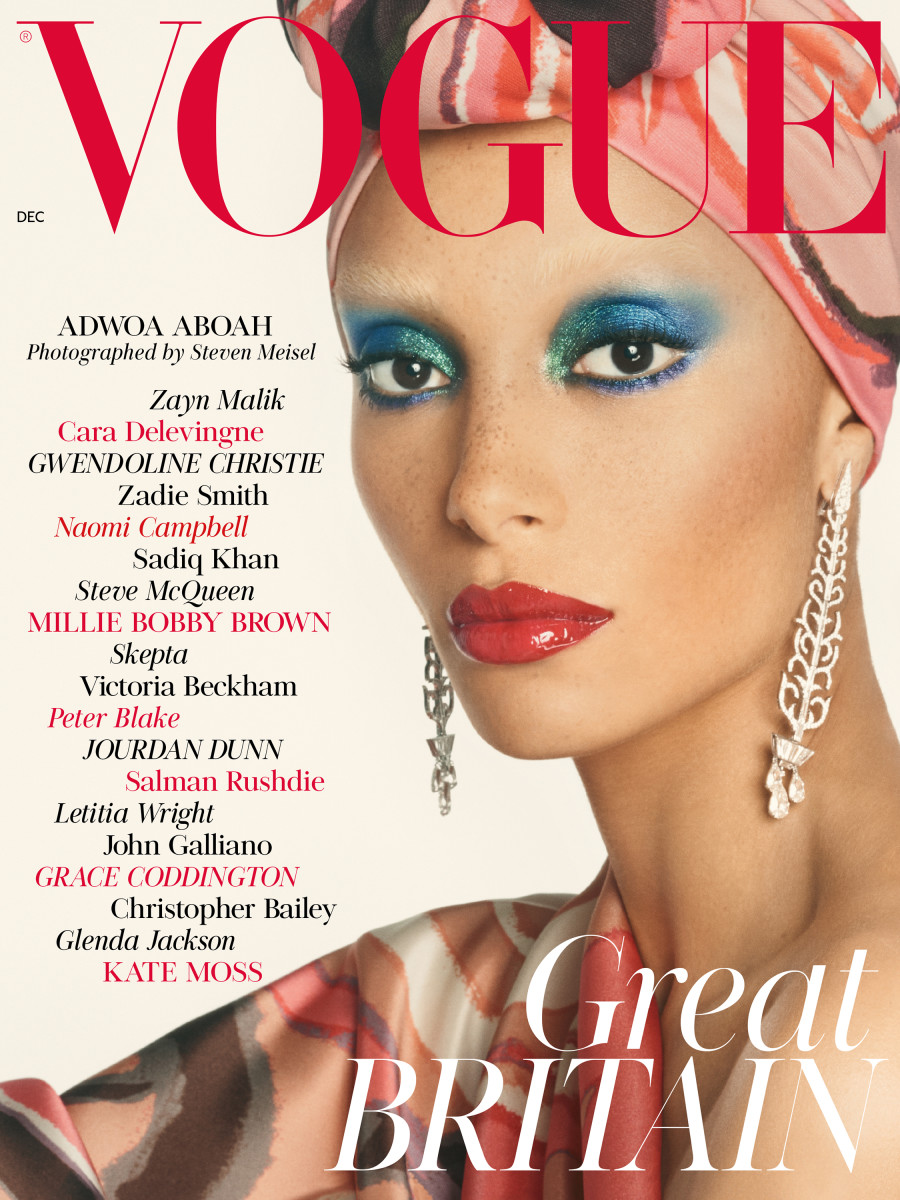 Steven Meisel/Courtesy of British Vogue
The December edition of British Vogue marks Edward Enninful's official debut as the magazine's first-ever male editor, after previous editor in chief Alexandra Schulman announced her departure in January this year after spending a quarter of the magazine's life at the helm.
The appointment of the black, openly gay man with immigrant parents was surprising to many once news of Enninful's new tenure broke in April, mostly because of the trending demographic of the magazine's previous predecessors like Shulman and Anna Wintour.
Aside from his obvious differences in comparison to current US Vogue Editor Wintour, Edward Enninful's resume falls no shorter. He was the youngest ever fashion director at the age of 18 at i-D, has left W magazine as creative and fashion director, and was appointed Officer of the Order of the British Empire (OBE) for his services to diversity within the fashion industry.
Alexandra Schulman's 25-year tenure at British Vogue was defined by British photography and culture, as well as her own distaste for celebrity covers. Previous British Vogue contributors have included Nigella Lawson, and the magazine has become associated with classic British art, along with Schulman's penchant for words with her novelist background. Alexandra Schulman herself has steered the British Vogue ship successfully for her 25 years at the helm, but has stopped at immersing herself in fashion's very close relationship with platforms such as Instagram. Since her departure, Schulman has openly warned that the magazine was in danger of losing its identity, due to investments being made in the digital media space and 'starving' the printed edition of appropriate resources.
Linda Brownlee/BBC
Edward Enninful, on the other hand, comes from a styling rather than journalism background, and is renowned for his often extravagant, outlandish imagery and creative aesthetic. He's unafraid to challenge the norm through his imagery, and is often the first to share them through his Instagram account. He's known for his vast collection of celebrity friends, something Schulman pointedly referenced in an op-ed written after her time at British Vogue came to an end.
The magazine celebrated its 100th year earlier in 2017, and despite a tumultuous climate for print magazines, the issue still enjoys a dedicated print-readership of approximately 160,000. Many readers, however, have migrated to digital forms of magazine – where British Vogue's readership drops to about 8,000. In an industry now just as driven as Instagram as by magazine print, Enninful's eye for imagery might provide a British Vogue that also enables its digital audience to blossom.
Sister publications such as US Vogue have begun relying on video content created specifically for their social audience and website – think 2 minute videos that show models dressed in couture, mouthing the words to 'Freedom' by George Michael in iconic New York locations. One of Enninful's first appointments was film director Steve McQueen, along with Grace Coddington and Naomi Campbell as contributors to the magazine. Kate Moss also signed on as a contributing fashion editor, and renowned makeup artists Charlotte Tilbury and Pat McGrath have also been tapped to contribute to the magazine's beauty features – on both print and digital mediums.
Already, on the eve of the magazine release, British Vogue has released video interviews only available via their website, and social media channels. The first featured Edward Enninful interviewing Adwoa Aboah, and the second saw Naomi Campbell sitting down with London's Mayor, Sadiq Khan.
Campbell has been vocal about the diversity Enninful will bring to British Vogue
Enninful's opening decree in his first official week as editor-in-chief saw him introduce British Vogue to Snapchat. The magazine's first story contained content that isn't available through a printed magazine, like where to get brunch that morning in London and videos of Enninful's dog. Already in sharp contrast to Alexandra Schulman, Edward Enninful feels accessible, and coupled with his regular Instagram updates, he's inviting readers to connect with the magazine on a level that doesn't involve physically turning pages of the latest issue.
Enninful has been responsible for promoting diversity in fashion beyond meeting quotas on a runway, with his infamous 'All Black' issue for Vogue Italia in 2008, his assistance in orchestrating 81 fashion industry figures to create a short film in response to President Donald Trump's travel ban, and styling next year's Pirelli calendar that features an all-black cast for the first time in the calendar's 50-year history.
His first British Vogue cover is no different: Adwoa Aboah is a mixed-race British model, which marks only the third time a black model has individually graced the cover of the magazine. The only other two covers occurred during Alexandra Schulman's 25-year tenure: Naomi Campbell in August 2002, and Jourdan Dunn in February 2015.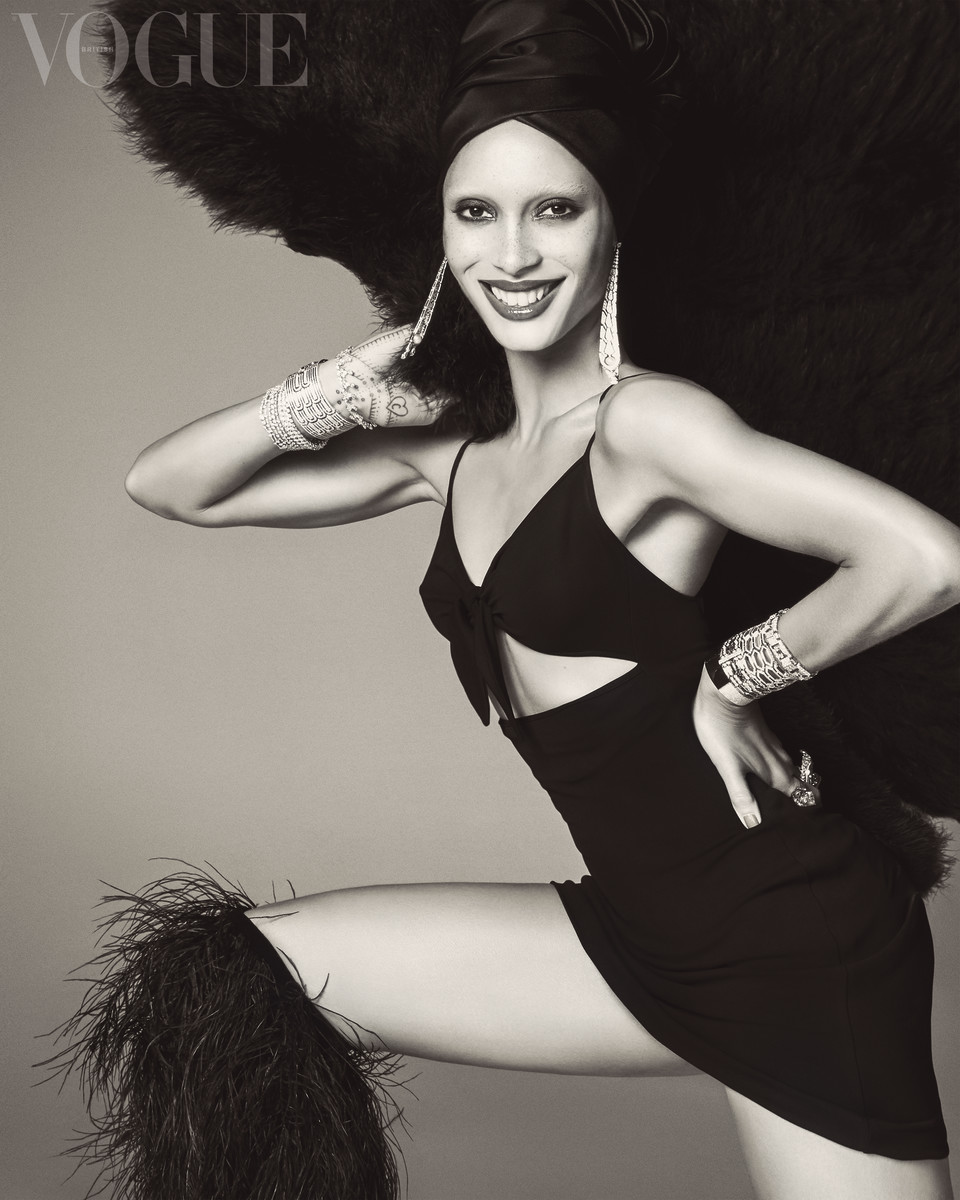 Steven Meisel/Courtesy British Vogue
Adding further to the flames of change is the exodus of other British Vogue stalwarts like Lucinda Chambers, who was actually fired by Enninful. After serving at the magazine for 36 years, Chambers unleashed a string of truths about the state of the industry that were heard around the world – that Alexa Chung's recent Vogue cover-debut was 'tacky', and the zinger that Lucinda herself doesn't read Vogue, and hasn't for years.
Chambers called for a magazine that empowers its industry and its readers, and to be something that's as useful as it is aspirational for what's within its glossy pages. Enninful's first physical issue of British Vogue comes at a time where its American sister publication's house, Conde Nast, has just announced the end of Teen Vogue's print run – a publication that many saw as a beacon for young people in a dark and unclear political environment. Under editor in chief Elain Welteroth, Teen Vogue became just as much about social justice and politics as it did clothes and makeup. Although Teen Vogue will continue digitally, it's a hallmark example that publications rely on more than just Lucinda Chambers' want for empowering, and aspirational magazines.
Despite a dedicated print readership, Enninful's British Vogue debut comes at a time where the August circulation of the magazine dropped 3%. Schulman's clear dedication to the printed magazine may be commendable, and admirable, even, but not sustainable in an industry that relies on more than just what's contained in the pages of a print issue.
Enninful's clear vision for British Vogue is surely a sign of what's to come: a high-fashion magazine that's just as reflective of its namesake's diversity, culture, talent and creativity, as it is commercially viable. A #NewVogue, indeed.