In a list of the most difficult things any human may go through in life, most people would agree that coming to the end of a long-term relationship would make the cut. In such a painful situation, having those particular songs that know exactly how you feel can always help to ease the pain a little bit. The Swedish folk duo First Aid Kit have added to that playlist with the melancholic new single 'Postcard'.
'Postcard' premiered in late October via Rolling Stone Country. It is a song that says that final goodbye to a fading romance, where nothing had gone wrong, just time had taken its toll. "'Postcard' is one of the most traditional sounding songs we've ever written, and we wanted the production to mirror that," First Aid Kit told Rolling Stone Country, "it's not a resentful song, but more of a reaching out to a lover to wish them well on their journey in the midst of having to let them go." The Americana-inspired track is driven by the sisters close and enthralling harmonies as well as country slide guitar accompanied by ambling rhythms and sophisticated piano lines. Listen to 'Postcard' and watch the lyric video below.
'Postcard' previews the duo's forthcoming new album Ruins which is available for pre-order now and due to be released on January 19th. This album was produced by Tucker Martine, who is known for also working with My Morning Jacket and Laura Veirs. It was recorded in Portland, Oregon where all sorts of amazing musicians turned up to collaborate with the duo – this includes REM's Peter Buck, Wilco's Glenn Kotche, and Midlake's McKenzie Smith. 'Postcard' is not the first single to be released off this album as Ruins also includes lead single 'It's a Shame' – a song about feeling bad that you have grown tired of your lover but not being able to help it. See some of the praise for 'It's a Shame' below.
"A brightly polished folk-rock gem." – Stereogum
"Klara and Johanna Söderberg's warming vocals and delicate guitar strumming mesh to create a beautifully folky sound. – Paste

Courtesy of Lauren Dukoff
Ruins was written during a challenging time for both Klara and Johanna Söderberg with Klara's relationship with her now ex-fiancé coming to an end as well as there being some unrest between the sisters. This only made for a more emotional and real album which will be sure to have you feeling each and every emotion the duo felt during the time of writing. Ruins refers to experiences being similar to artefacts – just like ancient places such as Stonehenge and the Coliseum, life experiences are still worth revisiting even when they are broken, hence the title of the album.
Ruins follows the bands previous Aria top 10 album Stay Gold. This album beautifully captured the duo's vivid storytelling with ten lush and ambitious songs, landing First Aid Kit with numerous 'Best if 2014' accolades. Earlier this spring, the sisters also released the stand-alone single 'You Are the Problem Here' on International Women's Day. This highly important track is empowered, passionate and angry, confronting the rape culture epidemic. A portion of proceeds collected from this song were donated to the humanitarian organisation Women for Women International.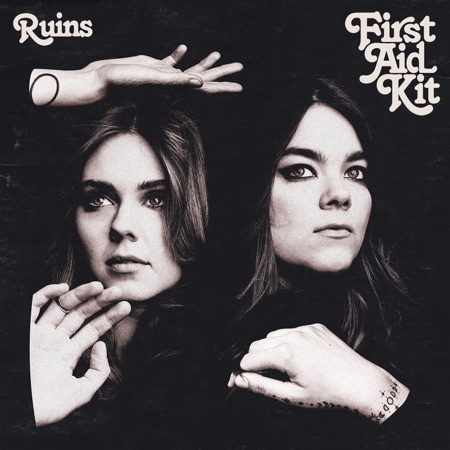 'Ruins' Track Listing
Rebel Heart
It's a Shame
Fireworks
Postcard
To Live a Life
My Wild Sweet Love
Distant Star
Ruins
Hem of Her Dress
Nothing Has to Be True
Australian Tour Dates
March 29th – April 2nd, 2018 – Bluesfest, Byron Bay
April 3rd, 2018 – Enmore Theatre, Sydney *Selling Fast*
April 5th, 2018 – Croxton Hotel, Melbourne *Sold Out*
April 6th, 2018 – Croxton Hotel, Melbourne *Selling Fast*
Pre-order Ruins here.
Connect with First Aid Kit on their website, Facebook, Twitter, and Instagram.