I should preface this article by saying that I am utterly unqualified to be offering you any doctoral advice at all. However, I do have a face and I've had it for a while now, so to a point I think I know enough to offer you at least an ernest opinion. The truth is, I don't feel like anyone really told me what an enormous deal good skincare would be, especially after that strange point around 15-19 when your hormones and your face join forces and rise up against you. Not only does it get all weird up in your face business, but if your face is anything like mine? Just as you got used to dealing with one problem a whole new issue would pop up (no pun intended). Now, I have always had sensitive skin. I'm pale and freckly and the sun is about as close a thing to a natural-born enemy as I've got. So it took me a really, really long time to figure out a skincare routine that worked for me. But I'm here to tell you that it can be done. It just takes a little bit of trial and error to sort out what works for you.
Here's a fact: you are the person who best knows your skin. My mother? She's got an olive complexion, almost never gets sunburnt (I'm fairly certain she's some kind of super-human) and I can nary remember her ever having a spotty face. And the fancy dermatologists in those magazines, or on whatever website catches your fancy? They know skin, but they don't know your skin. Advice is great, and motherly wisdom should always be taken under consideration (mother knows best, or something like that), but you have to figure out your own face. My sister inherited our Mother's low maintenance face situation. I did not. I've tried oil cleansers and milk cleansers and foaming ones, too, I've gone with toners and without. I've done oils and serums and moisturisers, some with sunscreen and some without, and I've tried chemical and physical, oil-free and whatever-the-other-option-is sunscreens. And exfoliants? Forget about it. Most people with sensitive skin, or at least the ones that I know, have long given up on often harsh exfoliants.
So now, in complete disregard of everything I've just said about not listening to what other people tell you to do with your skin, I'm gonna tell you what's worked for me and my temperamental face: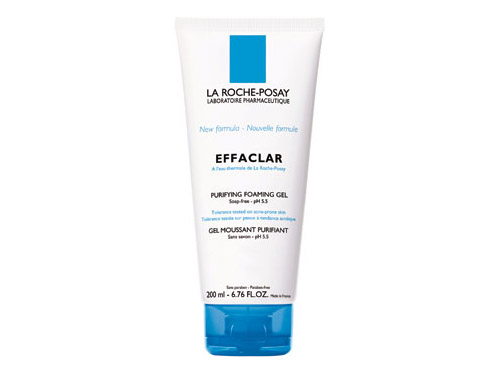 La Roche-Posay Effeaclar Foaming Gel
Get it from adorebeauty.com.au for $22.95
Cleansers
So many cleansers. And why do they often smell so weird? Maybe it's just me, but I don't want to feel like I've just rubbed potpourri all over my face. For a long time I used a Melvita Organics jelly cleanser. I don't think they make that exact one anymore, but the Nectar Pur Purifying Cleansing Jelly sounds like pretty much the same deal. Melvita, in my experience, was always gentle and never super strong smelling. The only real issue I had with it, as is often the case with sensitive products, was that I didn't really feel like I was getting a thorough clean. Although it never did make me breakout, so if your face is uber-sensitive this might be a good option for you. For a brief moment in time and like so many other people, I jumped on the Cetaphil bandwagon. Cetaphil was great (I used the cleansing bar) but I ended up with much the same problem as I had with Melvita. My go to cleanser now is by La Roche-Posay. Also a gel cleanser, I use the Effeaclar Foaming Gel. It gets my face really clean, is super gentle and lasts for months. The gel is soap, alcohol, colorant and paraben free, and it doesn't break the bank either.
Avéne Eau Thermale Spring Water
Get it from chemistwarehouse.com.au for $19.99
Toners
I can't help you with these because I don't use one. I've found they're too harsh on my face, so I just use Avéne Thermal Spring Water. I know a can of fancy french water sounds like a bit of a crock, but I love the stuff. You can use it for everything from setting make-up to soothing sunburn, and I've honestly never felt like I was missing anything or my face was any worse off for skipping the toners. I did use Jurlique Rosewater Balancing Mist for a little while and it's lovely (who doesn't like smacking themselves around the face with a bunch of sweet smelling roses?), but in the end it wasn't for me.


Embryolisse Lait-Créme Concentré
Get it from adorebeauty.com.au for $35.00
Moisturisers
For a while there I think I probably could have opened my own cosmetics counter. I had tubes of cream coming out my ears, but none of them were ever quite right. And I don't know about you, but I don't fancy spending 40 bucks on a 50ml tube of stuff I'm going to go through in a few weeks. Until a couple of months ago I was using Bioderma Sebium Mat Anti-Shine Fluid. I'd also tried Rosehip oil, a Nuxe créme and a few others, but I loved the Bioderma. It smells great, goes on well and does what it says – but it wasn't quite enough for me. A friend with a similar, annoyingly low maintenance face as my Mother had recently been singing the praises of Embryolisse. I told my Mother about this and she went and got herself some. It wasn't long before she was pretty much straight up crazy about the stuff, although I naturally assumed that the créme would be too heavy for me and thus that it would make me breakout. However, I was fed up with my itchy face so I gave it a go. I can't recommend it highly enough. It's like magic: not too heavy and not too light, great in hot or cold weather and it lasts for ages. Those crazy french rascals, always coming up with the goods.
Go-To Skincare Exfoliating Swipeys
Get it from gotoskincare.com for $45.95


The dreaded exfoliant. Oh, how I had grown to resent you. For years it seemed like every single exfoliating anything that I tried would just make my face cry. Cry with pain, cry with allergies and explode in rage. Not fun. But there is hope! Very, very pessimistically I tried Go-To Skincare's Exfoliating Swipey's. I had little to no faith and I was sure that the little wipes would make my face sadder than it had perhaps ever been. But boy, was I wrong. Not only do these smell utterly lovely, but they really do work. They clean and scrub and make your face feel about as new and it's ever going to. So my sensitive skinned friends, don't be afraid! Lactic acid has been wrangled by Go-To. And as an added incentive, they come with bonus charming wit and good vibes (natural, all round friendly lot who are animal testing-free).

Something else I've learnt along the way is that it's often a safe bet to stick with brands you know work for you. If you find a cleanser that does not make your face reel up in revolt, then it's a safe (but not fail-safe) bet that they might make something else that works for you. Although as you may have noticed from this list, I don't actually use any two things from the same line. That wasn't a pot-luck situation, let me me tell you. I had a routine down that I knew I could fall back on if something went horribly wrong. And while this might seem obvious, let me gently remind you of something: do not try a new product the week before a wedding, reunion, date, job interview or any other social situation in which you don't want to risk having a potential calamity of a face. By which I mean (and I'm sure you have a lovely face, well done you) – don't risk a breakout unless you're desperate. If you've already got a sad face situation, then go for it. We've all been there and it's entirely possible that a little postage box holds the key to your future face utopia. But if you're just experimenting, experiment on engagement-free time.
It takes a while to figure it out, this face stuff. It comes with the oestrogen; all those weird hormones up in your business messing everything up when you least expect it. But it will calm down and you will find something that works for you. All of the products I've mentioned do work for me, but it's also down to even the most ridiculous subtleties of routine. I can only exfoliate once or twice a week, for example. Any more than that and my face and I end up offside. But don't be afraid to try new products and new techniques. A few months ago I was reading about a theory of Dr. Hauschka. He was a real dude and in fact a proper Doctor, and he had some interesting theories about skincare. He believed that during the night is when your skin rebalances itself and that by applying night creams and the like, you interfere with your skin's ability to care for itself. In the essence of full disclosure, I thought this was a load of crap when I read it. But then I realised I didn't know why I thought that and so I gave it a go for the hell of it. It took a few weeks or maybe even a month for my face to even out, but now I can honestly say it's better and more calm and even than it's ever been. So there's some more food for thought.
At the end of the day, just know that everyone has crappy skin days. Or years. It's not just you, you can find something that works and it will get better.